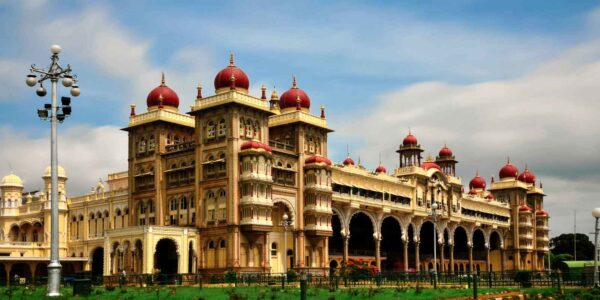 Tourist Attraction Name: Mysore Maharaja palace, Mysore Amba Vilas palace,
Mysore Aramane
Mysore palace Open and Closing Timings: 10:00 AM – 6:00 PM, Everyday
Mysore Palace Illumination Timing · 07.00 pm – 07.45 pm on Sundays And Govt Holidays
Entry Fee : Indians: Adults Rs. 40 Children: Rs.20,
Foreigners: Adult: Rs.200
Foreigners Children: Rs.150
Trip Duration (Including Travel): 2-3 Hours
Main Attractions: Palace Inside & Lighting
Parking Fees : Bus: Rs.150, Car: Rs.60
Nearest City: Mysore
Best Time to Visit: All Time
Camera Charges: Free-Large Camera
Transportation Options: Bus / Cab
Landmark: Near KR Circle Mysore
Address: Mysore Maharaja Palace Address: Sayyaji Rao Road
Mysuru, Karnataka, 570001, India
Location: Agrahara Mysore
Phone Number: 0821 242 1051
Mysore Palace Timings Updated On June-2021
Detailed information will be given about Mysore Maharaja's Amba Vilas Palace. (Entry Fees, Timings, Phone number, Lighting Time). A resident of Mysore's Agrahara city which entirely consists of Brahmin community, I Shrishaisha am working as a mysore tour guide and  Mysore Palace guide from past 40 years. For 18 hours a day I have been in companionship with the tourists  who visit the palace, and Mysore Palace has shaped my life elegantly. I am a tour guide holding a tour guide badge recognized by the Karnataka government. What can you do at Mysore palace and what are the main places that you have to visit in palace, and through which palace gate you have to enter the palace and by which gate you have to exit. And also the changed timings of the palace, modifications in the ticket fare. Which are the current phone numbers of the palace. Through which mobile numbers tourists get in touch with palace directly. At what time mysore palace's lighting will be turned on, and when will be  the mysore palace illumination on special days put on, how will be the palace's activity when dignitaries arrive, and also changes in the administration authorities. I have thorough knowledge of the above things and I'll give precise information about those to the tourists visiting the palace. From these, I've made myself a perfectionist as a Mysore Palace guide.
Mysore palace photos. 
Mysore palace includes its own majestic scenario. Glorious photos can be taken from every angle. Every photographer has captured the palace in his camera in his own fashion. Photography is not permitted inside the palace premises. But by standing outside palace you can take photos of your own style. Here you'll cameramen are also available and instant photo print facility is also there. Since the number of mobile phones are considerably, do not forget to take photos of your companions in your mobile. No matter how many years go by, your memory stays with you.
Mysore Palace. 
Even today, Mysore 27th Maharaja 28 years old Yaduveer Chamaraja Wadiyar resides in Mysore palace along his wife Trishika kumari Devi and  Rajmata Pramoda Devi Wodeyar. Apart from that, Mysore Maharaja conducts darbar once a year even today. During navaratri, while celebrating traditional dasara, darbar will be conducted for 9 days. And on the last 9th day Vijaya Dashami will be conducted. Procession of Nadadevi Chamundeshwari will be on the Ambari during Vijaya Dashami. Out of 7 palaces of mysore city, Amba Vilas Palace has got world recognition. It has been recorded as the world's 2nd beautiful palace. In India, after Agra's Taj Mahal, the place where most tourists visit is Mysore's Amba Vilas Palace.
Amba Vilas Palace is built on a 72 acre region with the touch of hindu, moghul, rajput and gothic architecture in indo saracenic style. The three floored palace and 5 floored 145 foot red tower is built using grey granite and pink marble is used. The outside of this marvelous structure is affluent with 2 darbar auditoriums, many arcs and glass windows. There is a green garden around the palace,where tourists can sit. As you enter the palace, silver doors, pink marble stones, ceilings decorated using glass and walls decorated with ivory welcomes you. Being that, why shouldn't we watch this stupendous palace immediately? We will help you. In just Rs.800/-, the palace with 200 years of history can be watched in 4 hours and you can feel the conception of the palace.
How to plan Mysore palace in one day. 
Before planning to Mysore palace, and at what time to visit the palace and before listing other tourist spots think about Mysore one day trip by car. Because, after the sightseeing of the palace completes after two hours, other places can also be visited by car.
Therefore, book mysore sightseeing cabs before your arrival to mysore and visit mysore nearest tourist places and do a mysore one day tour.
How to reach Mysore palace. 
Before coming to mysore, If you book a hotel near the areas surrounding mysore palace; that is Jaganmohan palace or Sri Harsha Road, you can reach mysore palace within 10 minutes by walk. Or from mysore bus stand if you board an auto you can reach palace in 80 rupees. And if you hire a taxi service for Mysore palace in Rs. 250/-, pick up and drop will be provided. Or if you take mysore one day taxi package in the morning as per mysore one day trip plan, you can visit 15 popular tourist places of mysore and include mysore palace in it.